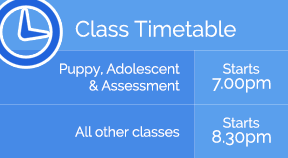 Classes @ The Animal Behaviour Centre
We provide a range of classes for dogs and handlers. The traditional obedience commands and positions are taught but handlers are also encouraged to increase the relationship with their dog and to get the best from it. Dog manners are taught so that owning a dog is a pleasure and dogs should become more sociable towards both people and other dogs.
After registering all handlers and dogs meet up to start training.